The millennial demographic is finally coming of age, reaching adulthood in their millions. For a generation who grew up in a world more interconnected than ever before, the urge to go out and see that world is an inbuilt one. Adulthood means careers, which means disposable income, which in turn leads to the ability to turn those dreams of travel into reality.
This explosion in new travelers with specific, discerning tastes, invites the question of how hotels can attract these millennials and inspire them to return. Some possible answers are straightforward (high-speed internet, streaming services) while some are more structural and difficult to implement (central location, access to cheap transit).
But one way to make your hotel attractive to millennials is simple, and can be relatively cheap to incorporate into an existing setup.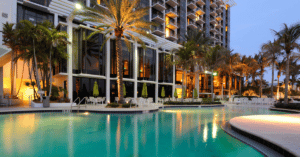 What's the one thing millennials spend their money on, every single day? If the media is to be believed, it's coffee. Coffee and travel go together like espresso and milk, with numerous apps and websites dedicated to pointing travelers in the direction of the best local coffee shops in their vicinity, whether it be San Francisco, Lisbon, or Marrakesh.
Some hotels have already jumped into the coffee world head first, with several partnering with third wave coffee companies to open full service cafes in their lobbies (Populace Coffee inside the Siren Hotel in Detroit for example, or Stumptown's partnership with Ace Hotels in Portland and New York City).
Having a stylish coffee brand within your hotel is a great way to encourage younger guests to not only visit in the first place, but also spend more of their time (and money) on-site. There's also the ever-more-important Instagram angle, and coffee shops are a treasure trove of user-generated marketing content, which means having access to this content can expand and enhance your hotel's marketing strategy.
But say your hotel doesn't have the capacity or capital to add an entire coffee bar to its lobby—there are a few cheap, practical ways to improve your coffee service and attract millennial coffee drinkers.
Invest in good coffee. This might seem obvious, but it's also the easiest way to improve the drinks you serve. And the good news is that sourcing high-quality, local coffee is easier than it's ever been—all cities, and most smaller towns, boast at least one specialty coffee roaster.

Improve the equipment. A good quality grinder and brewer can elevate your coffee service to the next level—that local coffee roaster most likely offers barista training in addition to beans.

Give more options. A basic machine and some coffee packets might seem fine to you, but millennials are more discerning and will most likely go elsewhere for their caffeine fix. Instead, try stocking some specialty instant coffee from companies like Sudden Coffee or Voila.
It's easy to ignore specialty coffee, but for hotels that want to attract the millennial demographic it's a cheap and easily implemented perk that will create both user-generated marketing content and positive word of mouth from satisfied guests.